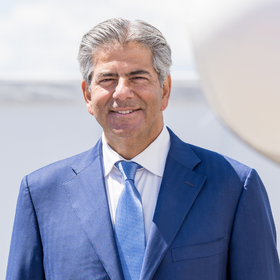 Athar Husain Khan
Secretary-General
Athar has spent the last 25 years as a leader, aero-political negotiator, lawyer, advocacy specialist and CEO in various aviation organisations and companies, in both the public and private arena. Most recently he was an Agreements & International Relations Consultant for the Qatar Civil Aviation Authority in Doha.
Before that, Athar led the Association of European Airlines (AEA) in Brussels as CEO, managing issues spanning environment and infrastructure to safety policy and regulation. At AEA, Athar's day-to-day activities included member acquisition, event development and sponsorship, media relations and advocacy at the highest EU political and institutional levels.
We are delighted to have Athar join us in advancing Business Aviation in Europe. His experience in the international aero-political world and proven track record in Association management will contribute to strengthening EBAA as the voice of Business Aviation in Europe, on behalf of our more than 700 Members.
Moreover, he is no stranger to EBAA. During his tenure at AEA, we had several chances to work together to maximise the effect of aviation industry representation at EU institutional levels. 
MODERATOR SESSION
MEBAA Show Conference: Biz Av Talks 2022
07 December 2022 | 12:50 - 13:35 | Panel: Creating the ultimate flying experience for the elite
HNWI & UHNWI want to reach their destinations faster, with the highest level of comfort and without connectivity disruption. Discover how private travel expectations are changing, and what business aviation will look like in the next 20 years.