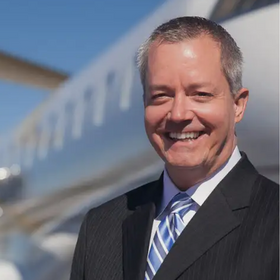 Douglas Carr
SVP, Safety, Security, Sustainability & International Affairs
Douglas "Doug" Carr is NBAA's senior vice president of safety, security, sustainability and international operations. In this position, he is responsible for leading the association's broad regulatory and policy agenda affecting business aviation safety, security, sustainability and aircraft operations in the United States and around the globe. He also is the staff liaison for NBAA's Security Council.
In April 1998, Carr joined the NBAA staff as manager of domestic operations. He subsequently was promoted to manager of safety and operations, director of government affairs and vice president of regulatory and international affairs. In these positions, he monitored and responded to domestic and international regulatory and legislative initiatives by Congress, FAA, TSA, CBP and other government agencies. He also provided operational-related assistance for commercial and non-commercial aircraft operators.
While at NBAA, Carr has led or participated in several landmark aviation rulemaking and policy efforts, including the FAA's Fractional Ownership Aviation Rulemaking Committee (FOARC), the FAA's Part 125/135 ARC Flight and Rest Subcommittee, the Takeoff and Landing Performance Assessment (TALPA) ARC, TSA's Large Aircraft Security Program (LASP) proposal, establishment of CBP's business aviation pre-clearance program in Shannon, Ireland and updates to ICAO protocols for business aircraft, among others.
Internationally, Carr represents business aviation interests at the International Civil Aviation Organization (ICAO), and has assisted with several rulemaking and policy efforts at the European Aviation Safety Agency (EASA) and the Civil Aviation Administration of China (CAAC). He serves as the corporate secretary for the International Business Aviation Council (IBAC). 
SPEAKER SESSION
MEBAA Show Conference: Biz Av Talks 2022
08 December 2022 | 12:55 - 13:45 | Panel: Accelerating business profitability with collaboration
Discuss how the business aviation market can work together to cope with changing flight demands, connectivity and customer expectations. Learn how governments, operators, charters and FBOs are tailoring their services to ensure business continuity and profitability.
MODERATOR SESSION
MEBAA Show Conference: Biz Av Talks 2022
06 December 2022 | 12:30 - 13:15 | Panel: Strategies for business aviation sustainability
Understanding the short-and long-term perspective of OEMs, fuel suppliers and operators in ensuring sustainability. This session will discuss the best practices to meet your sustainability goals and protect your ROI.