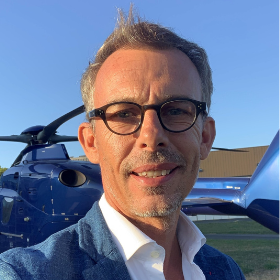 Frederic Aguettant
President
Frederic Aguettant is the pioneer of the digital transformation of Advanced Air Mobility. A multi-entrepreneur, he is the founding president of Helipass.com, the global platform for helicopter and air mobility.
Helipass, based on incremental technology, aims to develop and simplify new passenger uses in complete safety at competitive prices. Its international character allows it to bring together all the aeronautical companies and to offer its services at major events such as the Dubai 2020 World Expo.
Helipass was the only candidate selected among the 30 winners by the ADP consortium, Choose Paris Region and RAPT to participate in the e-commerce structuring of the Urban Air Mobility sector in view of the 2024 Olympics.
Frederic comes from a family passionate about aeronautics and has 30 years of experience in business aviation as a consultant, creator and manager of several helicopter companies in France and abroad.
He holds an MBA from EDHEC.
A committed citizen, he is a citizen reserve Colonel of the Air Force and has been a member of the management of professional unions. 
SPEAKER SESSION
MEBAA Show Conference: Biz Av Talks 2022
06 December 2022 | 13:15 - 13:35 | Presentation: The future of business flying
A new era in business aviation is taking flight. Roland Berger predicts there will be more than 160,000 vertical mobility aircraft by 2050. These vehicles aim to be up to 100 times quieter, safer, cleaner and significantly cheaper than helicopters and pose as a direct threat to short haul private flights. Join us to learn, how can you prepare for the UAM disruption?