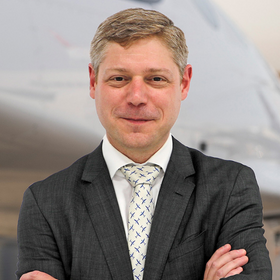 Gregory Davis 
President & CEO
Gregory Davis is President and CEO of Eviation Aircraft, a global manufacturer of all-electric aircraft. As a licensed commercial pilot and skilled engineer, Gregory brings an in-depth understanding and true passion for the industry to Eviation. 
Gregory has extensive experience in the aerospace industry with over 15 years of progressive leadership roles. Prior to Eviation, Gregory served as Vice President of Customer Service and Product Support for Viking Air Limited, a global leader in utility aircraft services and manufacturer of Series 400 and Guardian 400 Twin Otter aircraft. Before that, he served in an engineering role at Marshall Aerospace and Defence Group, one of the largest privately owned and independent aerospace and defense companies. Under Gregory's leadership, Eviation is building a new category of aircraft that challenges the limits of air travel and creates new market opportunities. 
Gregory holds a Bachelor's degree and Master's degree in Aerospace Engineering from Carleton University, and an MBA from the University of Calgary. 
SPEAKER SESSION
MEBAA Show Conference: Biz Av Talks 2022
07 December 2022 | 12:50 - 13:35 | Panel: Creating the ultimate flying experience for the elite
HNWI & UHNWI want to reach their destinations faster, with the highest level of comfort and without connectivity disruption. Discover how private travel expectations are changing, and what business aviation will look like in the next 20 years.