08 December 2022
Dornier Seawings and Gulf Enterprises sign extensive agreement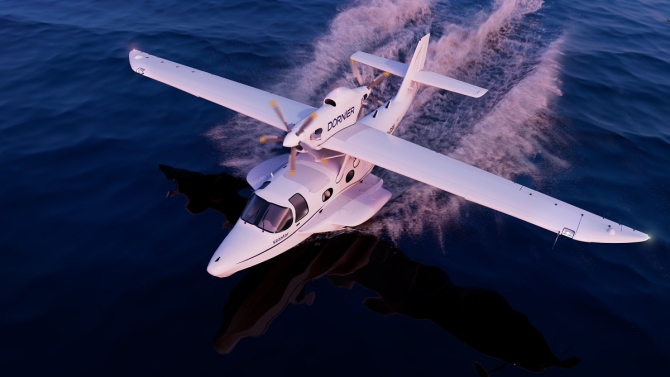 Click on image to download high resolution version
Dornier Seawings (Germany) and Gulf Enterprises (United Arab Emirates) have signed an agreement which will enable the most advanced amphibian aircraft to enter the Middle Eastern market. The agreement, which was signed at the MEBAA Show 2022, sets out a strong partnership between both companies in sales & marketing, operational and maintenance set-up, and support for this region.
Dornier Seawings' flagship aircraft is the German-engineered Seastar. With its corrosion-free, all composite airframe, the Seastar offers a highly versatile dual operation from both land and water, even under rough conditions.
Its unrivalled versatility and performance allows the Seastar to take on entirely new missions. In the spirit of the pioneering Dornier flying boats, the Seastar is superior in every important measure: speed, range, safety, cabin size, operating and maintenance costs.
The multi-purpose aircraft covers a wide range of operational applications from commercial and VIP passenger transportation to governmental, corporate and special missions. Certification flights are expected to be completed in 2023, followed by entry-of-service the following year.
"Expanding our sales network to the Middle East, by partnering with Gulf Enterprises, is a key strategic decision that brings the Next Gen Seastar to its natural environment that we are looking forward to embrace" states Juergen Heinrich, Dornier Seawings' Co-CEO.
"Introducing the most advanced amphibian aircraft to the Middle East is a privilege to us. Representing the pioneering spirit and heritage of Dornier is an honor" says Richard Haas, CEO of Gulf Enterprises.
"We are pleased that the Dornier legacy of flying boats is reaching our shores in the not-too-distant future to serve the diverse mission requirements of our ever-growing coastlines and islands" stated Ali Ahmed Alnaqbi, Founding and Executive Chairman of MEBAA - the Middle East & North Africa Business Aviation Association, during the Signing Ceremony.
Dornier Seawings is a joint venture with a heritage of more than 100 years in aviation in general and flying boats in particular, the company meets the highest environmental and economical operational standards.
Gulf Enterprises is a recently founded joint venture company combining global and regional aerospace expertise and resources. Based in Dubai to market, the company distributes and invests in innovative technology driven aerospace solutions in the Middle East.