28 April 2021
How business aviation is powering switch to sustainable fuels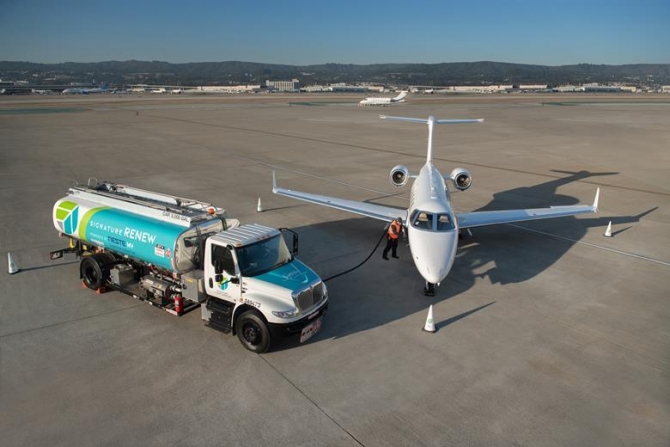 Click on image to download high resolution version
Hopefully, at some point during their career, people in the sales world are lucky enough to feel the buzz of selling a product that literally flies off the shelf.
Tony Lefebvre is incredulous that the product in question is boring old aviation fuel. "We have seen uptake of customer demand that is off the charts," says the chief operating officer of Signature Flight Support, one of the world's leading fixed-base operators (FBOs), with a network of 200 locations.
However, the product is not simply regular Jet A-1 fuel, but sustainable aviation fuel (SAF), bought by Signature, supplied by Finnish SAF manufacturer Neste and delivered to launch customer and operator NetJets at San Francisco International airport. This landmark deal, announced in September 2020, is one of many in recent months that demonstrate a significant ramp-up in commitments by the private and business aviation community to sustainability action.
Signature had been thinking about establishing the industry's first permanent supply of SAF for private aviation for some time, but availability was restricted, and customers were interested but not always convinced, explains Lefebvre. The pandemic helped change that. Commercial airlines have not needed as much SAF because their networks are moribund, giving others a chance to step in.
"We said to ourselves, let's flip an entire airport," says Lefebvre. That airport is San Francisco. Signature began fuelling NetJets aircraft with a blend level of 35% SAF to 65% regular Jet A-1 last December. It has committed to buying 5 million litres (1.3 million USgal) of SAF from Neste, and by the end of March, all customers taking fuel from Signature at the airport have been receiving the SAF/Jet A-1 combination.
GROWING CONCERN
NetJets has bought 792,000 litres of Signature's SAF supply for the San Francisco hub, explains Pat Gallagher, its head of sales, marketing and services. Before the onset of the pandemic, NetJets, one of the world's largest private jet operators, had been receiving "a great number of enquiries about what we were doing from a sustainability standpoint", he says.
In 2019, this topic had overtaken faster wi-fi on board aircraft as the most pressing issue, but as the pandemic took hold, it took a back seat for a few months. Now, environmental concerns have returned in a big way, with customer interest ranging from high net-worth individuals to Fortune 500 companies seeking an overview of NetJets' sustainability strategy to ensure they can satisfy their environmental, social and governance targets, says Gallagher.
NetJets took another step forward on its commitment to SAF at the start of this year, building on its deal with Signature. "Rather than just procure SAF, we wanted to be far more strategic than that and invest in its production," says Gallagher.
In January, the fractional aircraft ownership company announced that it was taking a 20% stake in WasteFuel, a US-based start-up planning to build a network of SAF production plants worldwide, with the first coming on stream in the Philippines in 2025. "As the world's largest private aviation buyer of fuel, we can do this, we can lean in with our scale and our financial ability to invest," explains Gallagher.
NetJets has committed to buying a minimum of 26.4 million litres of WasteFuel's SAF over the next decade.
One of the arguments against SAF has been its cost premium over Jet A-1. At the headline level, this is often said to be three to five times the cost of conventional aviation fuel. But at a blend of 35% SAF, customers will only see a relatively small difference in price because of the relatively modest proportion used, says Gallagher. And depending on where the SAF is taken, there may be a tax credit to offset this premium, as there is, for example, in California.
And as more SAF becomes available, the price will come down. "The price point with WasteFuel by 2025 will be negligible," believes Gallagher. By then, the blend of SAF is likely to have risen, as engine manufacturers such as Rolls-Royce are already successfully conducting tests with 100% SAF.
Continue reading the article
here
.