25 October 2022
MEBAA Chief Sounds Alarm on Environmental Campaign Against Bizav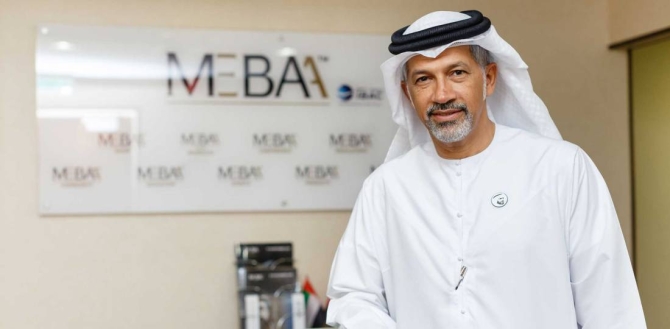 Click on image to download high resolution version
The Middle East Business Aviation Association (MEBAA) has voiced deep concern over the unprecedented campaign being waged by the environmental lobby on the industry's viability.
"Business aviation is under attack," Ali Alnaqbi, MEBAA's founding and executive chairman, told AIN on the eve of the NBAA-BACE, which he plans to attend as chair of the governing board of the International Business Aviation Council (IBAC).
He cited a growing chorus of disapproval regarding the inequalities inherent in the industry, including a declaration this summer by the French transport minister that restrictions should be placed on business aviation. Further, Alnaqbi said increased efforts to track aircraft and passenger identity were ominous developments.
In doing so, he echoed the call of NBAA president and CEO Ed Bolen for an end to the "shaming" of business jet users. Last month, Bolen reiterated the benefits of business aviation, which he said "led the way" on emissions reduction, and was fully committed to net-zero by 2050.
"In the U.S., there are many who are unhappy about business aviation," Alnaqbi said. "We need as an association and as an industry to work closely together. We need to start giving back. We cannot only take. We do not exist just to do business and make money, leaving communities or countries without any support. We need to start thinking in humanitarian or charitable terms. We need to think about other elements that will help us pay something back to the countries where we are operating."
Alnaqbi's comments are compelling, given the Middle East's reliance on oil exports. However, the region is also alive to the need for renewables, as major plans for multiple green hydrogen and solar energy projects make clear.
In September, Jetex founder and CEO Adel Mardini told AIN that the French anti-business aviation campaign was unlikely to succeed because of the sheer volume of flights going through Paris and Nice.
MEBAA constituents are a vital cog in the global industry because of the number of high-net-worth individuals, VVIPs, and royal families who fly privately. Boeing previously told AIN that more than a third of BBJ products went to customers in the Middle East, especially in the Gulf Cooperation Council.
"We need to be contributing and not only providing services. This is what I just called for," Alnaqbi said, referring to his keynote address at Corporate Jet Investor Dubai on September 21.
"I am calling for investment in sustainable aviation fuel [SAF], and for the launch of an SAF-based company in the Middle East," he continued. "Saudi Arabia's General Authority for Civil Aviation [GACA] has started discussing ways to support SAF use. I am also calling on FBOs to start providing SAF for use in our aircraft. Using SAF is very important."
Alnaqbi said that while the entire aviation industry contributed 2 percent to global CO2 emissions, business aviation's share was less than a quarter of that, at 0.44 percent. Fully 85 percent of private aviation use was devoted to business, while only 15 percent was family, leisure, and holiday travel, he claimed.
"Are we going to take the lead or follow?" he asked. "We are still followers, as we speak. If we want to turn into leaders, we have to start work immediately, by providing solutions, and not just following European or U.S. recommendations. We also have to be a major player in the market in our own right. This is what I said to everybody yesterday. We need to demonstrate that we are investing in SAF."
Alnaqbi's aviation diplomacy took him to the Canadian Business Aviation Association (CBAA) Convention in June and the JetNet IQ Summit in September. He expects to attend the IBAC governing board meeting in Orlando.
He also attended the triennial ICAO Assembly in Montreal, from September 27 to October 7. The supranational body, which meets at least once every three years, will see Alnaqbi participate as IBAC board chair when it submits a paper on sustainable aviation fuel and Net-Zero-2050 at the event.
Alnaqbi said he would also attend the Irish Business and General Aviation Association (IBGAA) launch and conference, on November 17, at Adare Manor, Ireland.
AIN's search for mention of SAF on the websites of Saudi Aramco and Abu Dhabi National Oil Company was unable to locate any reference to the term, but the region's expertise in fuel technology is expected to make it a major contributor to the SAF rollout. "We are opening dialogue with [national oil companies in the region] and they will help, definitely; let's hope so," Alnaqbi said.
In November 2020, a Dubai aviation sustainability webinar showed that efforts to develop SAF in the Middle East were still embryonic.
Alnaqbi said the problem with SAF was that demand is still very low, making it expensive to produce, and keeping its price high. A sudden and substantial increase in demand would drive the price down quickly and significantly. "That's why we are saying, 'Come on! Commit,'" he said. "We need government [in the region] to commit. Otherwise, they'll start banning flying [all around the world].
"We are a major contributor to the economy," he continued. "Business aviation is a necessity. During Covid, the entire [passenger] aviation industry went underground and countries closed borders. The only exception was business aviation, which continued flying to repatriate people and get them home. We are a pillar of the economy. But we have to give something back and show that we care."
Source: AIN