11 December 2018
THE MEBAA SHOW BACKS FUTURE BUSINESS AVIATION INDUSTRY GROWTH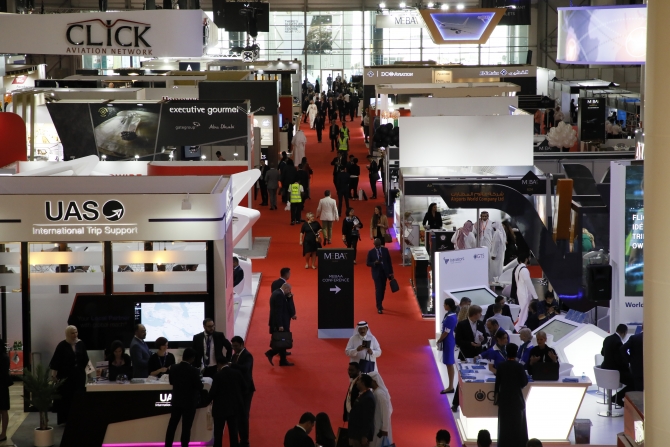 Click on image to download high resolution version
From education to maintenance, new exhibitors celebrate quality leads
New exhibitors are flocking to the MEBAA Show – now the largest business aviation event in the Middle East, to gain a foothold in the world's fastest growing business aviation market. 
Dave Capper, Managing Director of the world's oldest industry recruitment site, Aviation Job Search, is celebrating his company's 20th anniversary by exhibiting at the three-day event.
"There has been a steady flow of interest, and we are delighted to see many of our global clients also exhibiting here. We have had a number of pilots pass by and tell us they found their jobs via our site. We are looking to build our presence in the Middle East, especially given the need for so many pilots and technicians across the region. We have talked to everyone, from industry veterans looking to switch jobs, to those fresh out of training," said the recruitment expert.
Also eyeing the future needs of the regional industry is Tayaran, Saudi Arabia's brand new aviation academy. Backed by the Kingdom's Ministry of Education and some of Saudi Arabia's biggest companies, including Saudi Aramco, Saudia, King Abdullah Economic City and the Technical and Vocational Training Corporation.
Accepting its first influx of students in January 2019, Tayaran chose MEBAA to launch the academy – the first of its kind in Saudi Arabia - as an ideal platform for building awareness of its aims. 
Mohammed T Alsubaiei, Director, Local Workforce Development Department, Saudi Arabia and Chairman of the new Academy, said: "The aim is to fuel the growth of the Kingdom's aviation sector. We currently do not have any training facilities of this calibre within Saudi Arabia. We want to encourage people to stay in Saudi and receive world class training. Every year the government supports students with millions of dollars to study abroad – we want to put some of this money back into the Kingdom."
Initially, the Academy will offer training for airplane and helicopter pilots and aircraft maintenance technicians.
UK-headquartered World Aero is a supplier of wheel and brake maintenance, repair and operations (MRO), dedicated to the needs of corporate aviation. 
Philip Randell, Business Development and Sales Manager, said his company was looking to develop stronger relationships with regional clients and the MEBAA Show presented him with high quality visitors, showing great interest in World Aero's services. 
"We are here to reassure local owners and operators that we provide efficient and professional services that can be relied upon, when it comes to tyres and brakes. I'm also here to spread the word about the importance of preventative maintenance, which can save costly issues."
Ali Alnaqbi, Founding & Executive Chairman of the Middle East & North Africa Business Aviation Association (MEBAA) said: "Education, training, recruitment and maintenance are vital keys to unlock the continuing success of business aviation in the region. It is gratifying to see international and regional players choosing the MEBAA Show to make their first forays into this market, and we look forward to welcoming them back in 2020."