12 December 2018
THE MEBAA SHOW BRINGS HIGH QUALITY BUYERS AND SELLERS TOGETHER IN GROWING SECTOR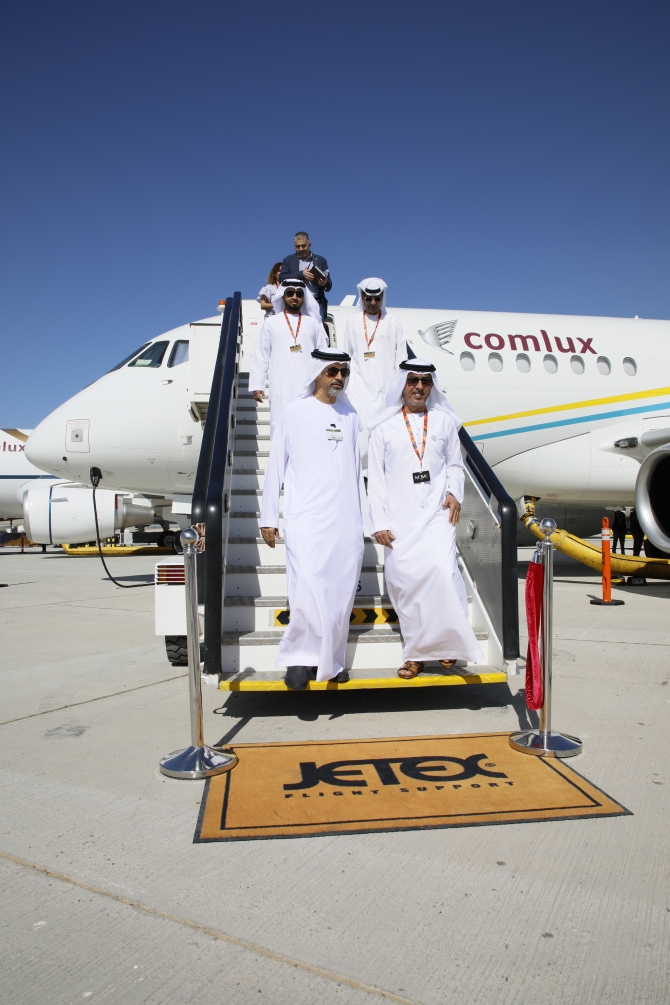 Click on image to download high resolution version
Quality visitors bring positive outlook to Middle East business aviation 
The largest business aviation event in the Middle East, The MEBAA Show, has once again attracted the crème de la crème of the global business aviation industry – alongside some of the region's biggest buyers.
H.H. Sheikh Rashid bin Hamdan al Nahyan, Chairman, Presidential Flight, the Abu Dhabi based VVIP and VIP flight operator, was among the many regional VVIP visitors who took a tour of the MEBAA Show halls and examined some of the 34 aircraft on static display at the event.
Boeing Business Jets took advantage of the global gathering to reveal its BBJ 777X wide-body business aircraft, which breaks the record for the longest-range business jet – at 11,645 nautical miles (21,570 kms) – which means it can circumnavigate the globe with one refuel. 
Bell Helicopters gave visitors their first glimpse of a production 505 at the static display area, alongside its 429 twin and 505 light single models at the show. UAE-based EDIC Horizon Flight Training Academy signed an agreement with Bell - which has some 800 aircraft flying in the region - for two 429s at the MEBAA Show.
Looking to gain a foothold in the world's fastest growing business aviation market, some 24 companies attended the biennial event for the first time, from across the region and the world.
Wayne Schmitz, President of Gulf State Aviation, revealed his company had seen some great success during the three-day event. The full-service aviation company which specialises in aircraft sales, acquisitions and purchases, has a presence in Texas and Dubai. Schmitz said: "We have had a couple of customers come by our stand with very specific requirements which we will be delighted to fulfil."
He said Gulf State can be seen as a 'matchmaking' service for the business aviation sector, pairing buyers and sellers and sourcing aircraft for specific buyers with specific needs – from 747s to refurbished Black Hawk military helicopters. 
Renowned engine builder Pratt & Whitney's senior field support representative, Stephan Claase said he is already looking forward to the next edition of the MEBAA Show.
"We will always support the MEBAA Show, with such quality visitors. We have more than 1000 customers in the region, and so simply must attend. The 2020 edition might see a very different atmosphere, with the Expo 2020 site just next doors," he said.
Zane Leake, Sales VP of Texas-headquartered Signature Plating, another first-time exhibitor, said his company had met some high-quality visitors with a clear interest in his company's high end, bespoke finishes. "We provide a range of plating with different finishes for clients who want to create a unique look for their aircraft. Anything is possible. Our HNWI client base spends a lot of money on their aircraft, and enjoy the customisation we offer to make the interiors really stand out. We use artists, not technicians, and our plating is all hand-crafted."
According to MEBAA Market Insights, provided by market research partner WingX, the UAE business jet market comprises 64% heavy jets, 32% ultra-long range jets and 4% midsize jets. Bombardier aircraft dominate the local market, with 40% of the UAE's business jets, followed by Gulfstream with 23.5%, Dassault with 13% and Embraer with 10.8% market share. 
Ali Alnaqbi, Founding & Executive Chairman of the Middle East and North Africa Business Aviation Association (MEBAA) said: "Resilience is the key word this year – we are seeing steady growth and positive signs despite a global slowdown and regional political issues. Exhibitors this year have reported high quality, serious visitors and this is the best possible outcome MEBAA can wish for. The Middle East is now a maturing region in terms of business aviation, and while we have a long way to go, geographically, this area will always have a vital, strategic role to play in the global business aviation arena."