12 December 2018
THE MEBAA SHOW FUELS REGIONAL BIZAV EXPANSION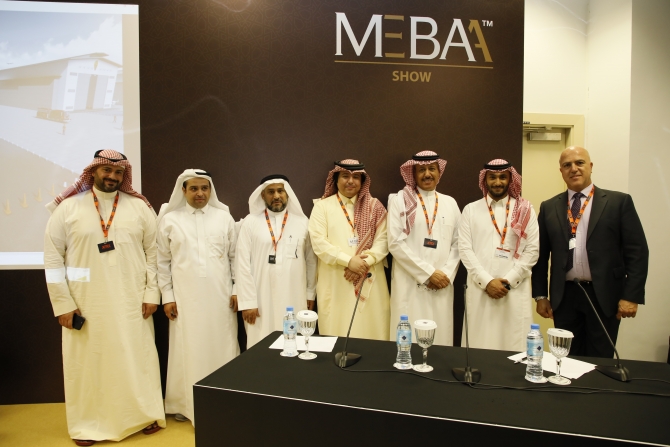 Click on image to download high resolution version
Business aviation sector set to benefit from new storage facilities, higher security and direct jet fuel supplies
While the Middle East is an extremely conducive environment for business aviation, with some 540 private aircraft deployed across the region, the weather conditions and all year-round sunshine can present problems for aircraft owners and operators.
First time exhibitor at the MEBAA Show, Riyadh-based Ajwa Aviation Services, is now offering a storage solution for business aircraft – some of which are valued at up to US$90 million – announcing the launch of bespoke aircraft hangars at Riyadh's private airport during the MEBAA Show.
Ajwa CEO, Abdulmajid Obaid, said: "We are in the final planning and approval stage of constructing a number of hangars on a secure 32,000 square metres site at Riyadh Airport. This will help our growing number of customers protect and maintain their aircraft".
"The harsh weather in Saudi Arabia can cause problems, such as dust, and the weather makes aircraft sitting on the apron extremely hot. Our hangars allow for safe, secure and clean storage," the CEO explained, adding that a number of Saudi owners and operators present at the MEBAA Show have expressed interest in making use of the hangars, which can be utilised on a long term or ad-hoc basis.
Ayman Al Shaikh, technical consultant at Ajwa, said light maintenance could be performed within the hangars, but revealed a later phase of the hangar construction would include heavy maintenance facilities. 
Initially, three controlled temperature hangars will be constructed, beginning Q1 2019, with smaller ones measuring 45 x 80m, and larger ones measuring 80 x 80m – large enough to comfortably house an A320. 
Ali Alnaqbi, Founding & Executive Chairman of the Middle East & North Africa Business Aviation Association (MEBAA) said: "The industry growth we are both witnessing and anticipating requires forward-thinking companies such as Ajwa Aviation to provide the facilities, maintenance and infrastructure needed. The MEBAA Show is where regional and global players come to find companies who can fulfil all their needs – from education to cutting-edge technology."
Visitors to Satcom Direct, the business aviation solutions provider, could watch 'live hacks' performed by experts from CogniSec Inc, the digital security testing company, demonstrating just how vulnerable aviation networks can be to those with malicious intent. Twice daily during the three-day event, experts are revealing loopholes in security systems and how easily they can be breached with the right software tools and knowledge.
Engin Basyurt, Business Development Director for Satcom Direct Middle East & Turkey, explained how his company helps business aviation avoid the threat of cyber security: "We provide active threat monitoring as part of our suite of digital flight monitoring services. We have the technology to notice anything unusual on the network - whichever network you are using, and can alert the client however they wish."
He pointed out a key issue with business aviation is that those using the service tend to be HNWIs, Heads of State and the like - therefore prime targets for cyber attack. "We are the gatekeepers - we protect people during flights from anything unusual by monitoring activity and simply blocking devices from accessing connectivity services. Data going in and out of aircraft is monitored by our system."
Satcom Direct also chose the MEBAA Show to introduce QEPA, a new flat panel connectivity antenna for business and military aviation produced in a partnership between SD Avionics and QEST. The light weight, low profile, electronically-steered antenna brings high-speed connectivity to a wide range of airframes.
A new connectivity solution, SD Xperience combines cabin and cockpit communications services, aircraft connectivity hardware, and flight operations software to deliver purpose-built technology satisfying the requirements of business aviation. 
First-time exhibitor ENOC – Emirates National Oil Company – is attending the MEBAA Show to showcase its range of aviation fuel services, which currently supply 55 per cent of Dubai International Airport's jet fuel requirements. The company is behind a 16.2 km fuel pipeline currently under construction, set to supply jet fuel from its storage facilities in Jebel Ali to Al Maktoum International Airport, in order to meet the expected increase in traffic.
His Excellency, Saif Humaid Al Falasi, Group CEO, ENOC, said: "As a national oil company, we are committed to support our country's ambitions of being a leading player in the aviation sector. Over the years, we have continuously enhanced our partnerships with airlines, suppliers and airports, which enable us to supply more than three million US gallons of jet fuel daily. With these recent network expansions, we plan to continue maintaining the highest standards of quality and operational excellence, both locally and internationally."