10 December 2018
MIDDLE EAST AND NORTH AFRICA BUSINESS AVIATION ASSOCIATION ATTRACTS NEW BOARD MEMBERS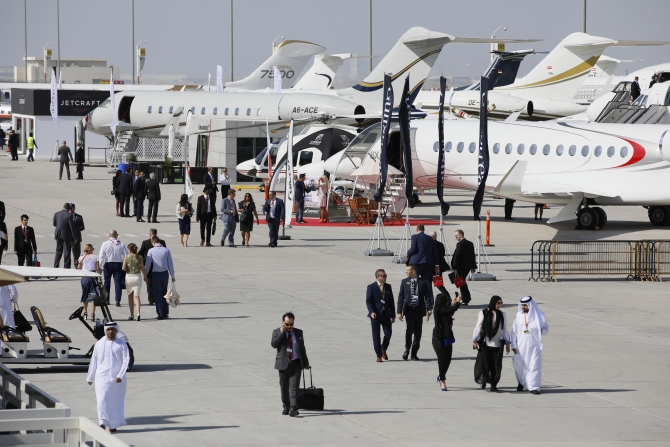 Click on image to download high resolution version
The MEBAA Show sees aviation industry leaders joining association to bolster regional business aviation
Ali Alnaqbi, Founding & Executive Chairman of the Middle East and North Africa Business Aviation Association (MEBAA) is delighted to welcome a host of senior industry figures to the organisation he founded in 2006.
MEBAA, a non-profit organisation, was created with the aim of providing a platform for the MENA region's business aviation industry to gather, understand and discuss the needs and benefits of the industry. 
On the first day of the MEBAA Show 2018, which runs from 10-12 December at the purpose-built DWC Airshow Site, Alnaqbi revealed the organisation is now headed by a board comprising 15 members.
The Association welcomes two new members to its Board and also took the opportunity presented by the largest gathering of the business aviation sector in the region to announced changes to its Board of Directors.
Joining the Board Members will be Mohammed Husary, Co-Owner and Executive President UAS International Trip Support and Joshua Stewart, Founder and CEO of XJet. 
Robert Smith, President of Jet Aviation has been appointed to the board, while Ruedi Kraft, Managing Director, Kraft Aviation Solutions GmbH has been appointed Board Advisor and Nicolas Robinson, Regional SVP Middle East and Africa joins the board representing Gulfstream.
"The board is delighted to welcome the new members." said Ali Alnaqbi, MEBAA Founding and Executive Chairman, "We welcome this influential new influx to our board and association, and are sure all of them will add to the overall aims of MEBAA – which is simply to increase business aviation levels in the Middle East."
Taking place every two years, The MEBAA Show is now the largest business aviation event in the Middle East, with this year's edition attracting more than 450 exhibitors and 34 stunning business jets on static display. There are currently around 540 business aircraft in the regional fleet, according to Alnaqbi, who also represents the Middle East as vice chairman of the International Business Aviation Council.
The event, now in its seventh edition, runs until 12 December at the purpose-built DWC, Airshow Site, and this year includes more than 450 exhibitors, 34 aircraft on static display and almost ten thousand visitors from all over the globe.