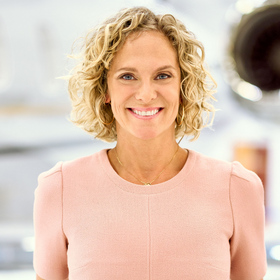 Eve Laurier
VP of Marketing & Communication
Ève Laurier was appointed Vice President, Communications, Marketing and Public Affairs at Bombardier in May 2021. A seasoned professional and senior executive leader, Ms. Laurier brings more than 20 years of knowledge and experience in public relations, communications, corporate marketing and branding to Bombardier. Her mandate is to lead the company's community and government engagement, employee and customer outreach, and steward the brand journey internally and externally, around the world. She has given herself the mandate of making Bombardier shine in its home province of Quebec and, in turn, highlighting Quebec know-how around the world through the company's unparalleled products and its international activities.

Ms. Laurier sets herself apart through her passion for corporate culture and her desire to put authenticity at the heart of her interactions. She the executive co-champion of Bombardier's Diversity and Inclusion forum for women. She is also an executive-level catalyst for Bombardier's Sustainable Aviation Fuel (SAF) strategy, an essential driver of Bombardier's decarbonization efforts and a pillar of the company's Environmental, Social and Corporate Governance (ESG) strategy. Additionally, she is a member of the board at Aéro Montréal.

Prior to joining Bombardier, Ms. Laurier held several senior leadership roles including serving as a General Manager at Edelman's Montreal office, where she was instrumental in helping businesses and organizations evolve and promote and protect their brands and reputations. She was also Vice President, Strategic Relations, at Richter, an accounting and financial consulting firm. Her impressive knowledge of communications and marketing was honed with various roles and responsibilities at other well-known agencies and organizations.
SPEAKER SESSION
MEBAA Show Conference: Biz Av Talks 2022
07 December 2022 | 12:50 - 13:35 | Panel: Creating the ultimate flying experience for the elite
HNWI & UHNWI want to reach their destinations faster, with the highest level of comfort and without connectivity disruption. Discover how private travel expectations are changing, and what business aviation will look like in the next 20 years.