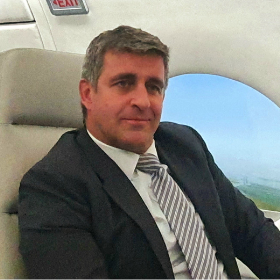 Mark Kammer
Operations Director
Mark is the co-founder of Dynamic Advanced Training and who conceptualized the design and the building one of the world's most advanced and award-winning Aviation Cabin Safety Training Academies that also focusses on business jet specific training needs. 
Mark holds a Master's Degree in Engineering, is creative problem solver, multi-culturally competent and an experienced management professional.
As the Operations Director responsible for its day-to-day operations, Mark is a team player who drives the company's training philosophy which is hands-on "Reality-Based Training" by putting the trainee's effective learning journey at the center of the company's focus.
Dynamic delivers truly experiential, engaging, immersive and most importantly fun training which aligns with its motto "We Entertain While We Train".
This, compared to conventional training, ensures better learning outcomes, knowledge retention, and ultimately the effective transfer of greater skills and expertise to line operations, resulting in safer skies.
SPEAKER SESSION
MEBAA Show Conference: Biz Av Talks 2022
06 December 2022 | 14:15 - 14:35 | Presentation: Investing in BizAv training
Although business jets operate differently to commercial aviation many operators continue to use commercial training centers. This session will identify the potential missed training opportunities when training with legacy centers and to help you better operate your aircraft safely and efficiently to optimize ROI.